Dieses leckere Bananen Pudding Rezept ist aus dem berühmten Magnolia Bakery Rezeptbuch. Die Magnolia Bakery ist bekannt aus vielen Filmen und Serien wie zB. Sex and the City. Dies ist eines unserer Lieblingsrezepte. Es ist sehr sehr lecker und einfach zu machen. Ideal als Mitbringsel, wenn man auf einer Party eingeladen ist.
Zutaten:
1 1/2 cups Wasser
2/3 cup instant Vanilla Pudding Mix
2 tuben condense Milch oder 1 Dose
3 cups Schlagobers
1  Box vanilla wafers oder Biskotten
4 Bananen (in Scheiben geschnitten)
Die cups selber fintet ihr in Backzubehör-Geschäften oder auf Amazon.
Zubereitung:
Wasser, Condense Mich und Pudding in eine Schüssel verrühren und aufkochen. Abkühlen lassen und 1 Std. in den Kühlschrank stellen. In der Zwischenzeit die Bananen schneiden.
Den Schlagobers mixen bis er steif wird und die Puddingmasse unterheben.
In eine Backform oder Auflaufform die Biscotten auflegen.
1/3 der Puddingcreme auf die Biskotten  verteilen und danach die Bananen auf die Puddingcreme legen
Das ganze wiederholen (Biskotten, Pudding Bananen) und zum Schluss als letzte Schicht über die Bananen noch einmal eine Puddingschicht geben.
Das ganze in den Kühlschrank über Nacht stehen lassen oder min. 6h.
Nach Belieben mit Schokoraspeln servieren.
Wünsche euch ein gutes Gelingen und lasst es euch schmecken 🙂
Mahlzeit!
xox Ana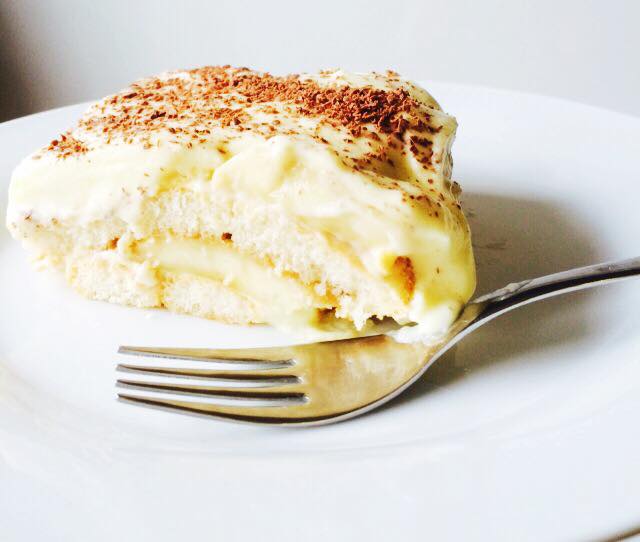 Soon is Valentiens day and i tought, i will share my all time favorite recepie for Sugar Cookies with you :
So here it is 🙂
This is what need:
For the cookies:
1 cup butter, softened
1 cup powdered sugar
1 egg, beaten
1 tsp almond extract
1 tsp vanilla
1 tsp salt
2 1/2 cups flour
In a large mixing bowl, beat butter until soft and creamy. Slowly add powdered sugar and beat until well combined. Add in egg, almond extract, vanilla, salt and flour and continue to mix until smooth. Chill dough until firm, at least 1 hour.
Preheat oven to 375F.
Line two cookie sheets with parchment paper and set aside.
Roll out dough on a well floured surface until it is 1/4 inch thick.
Cut out cookies with floured cookie cutters and carefully transfer them to the prepared cookie sheets. Bake cookies for 7-9 minutes. Cookies should NOT brown. Let cool completely before frosting.
For the icing:
2 Tbs meringue powder (found at any craft/baking store)
4 cups powdered sugar
6 Tbs water and one drop Almound flavor (extract)
Place all ingredients in the bowl of a stand mixer. Using the paddle attachment, beat frosting on low until matte and smooth, about 7-8 minutes.
Remove icing and divide into separate, covered container.
The number of containers will be based on how many colors you are using. I used two containers, one for pink and one for red. Keep the icing covered at all times when you are not working with it, as it dries out quickly.
Then you are ready to decorate your Cookies. You can also use Sprinkels as well.
Enjoy your cookies  and  happy Valentiens day 🙂
xoxo Ana